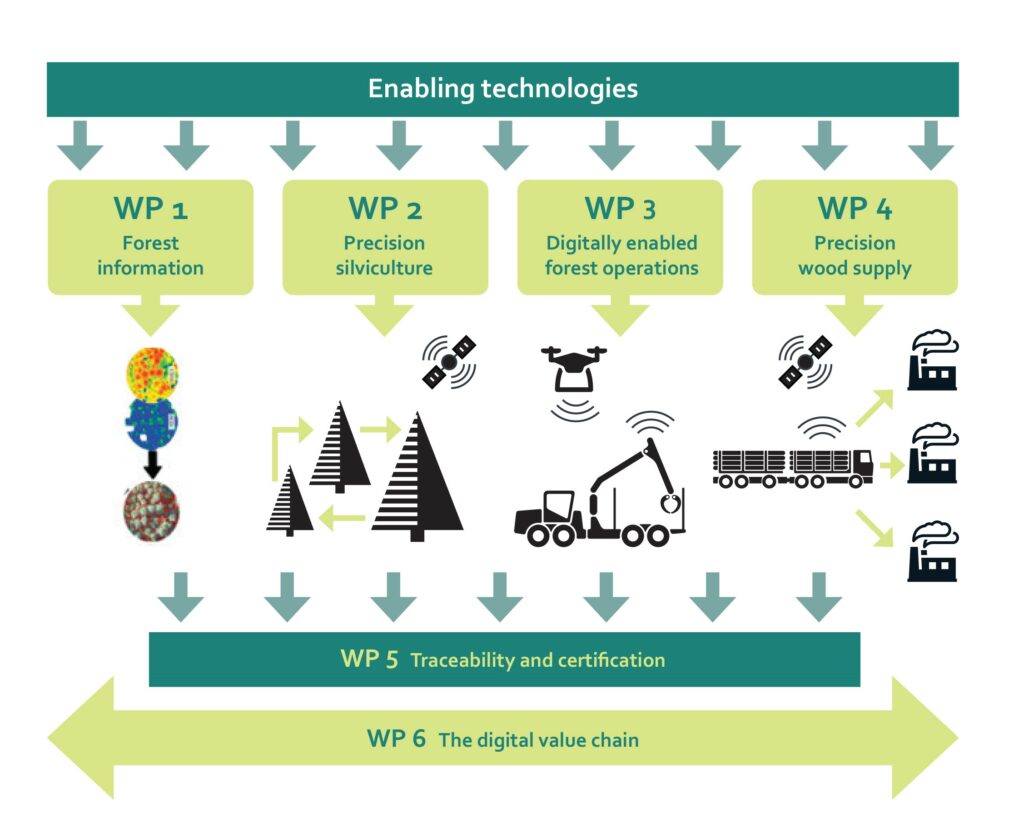 WP1: Forest information
Focus in WP1 is the development of improved forest information. Combining data from emerging technologies can lead to significant improvement in forest information and create continuously updated and improved forest information for a much broader spectrum of variables than in today's forest inventories.
WP2: Precision silviculture
WP2 focuses on cost-efficient precision silvicultural practices that can increase the growth rates of Norway's forest.
Through application of the emerging technologies precision silviculture will provide operationally feasible and costefficient production gains.
WP3: Digitally-enabled forest operations
Main focus in WP3 is the improvement of forest operation efficiency and avoidance of environmental damage through application of emerging technologies.
WP4: Precision wood supply
WP4 focuses on the development of precision wood supply approaches that reduce costs of logistics, reduce seasonal fluctuations in wood supply, and increase the value creation of the harvested wood.
Through the application of the emerging technologies of precision wood supply, where supply and demand are matched, both with respect to time and quality can be optimized.
WP5: Traceability and certification
Using machine data, traceability technologies and sensors along the value chain in combination with block chain technology will allow for full traceability throughout the value chain and enable semi-automatic reporting for certification as well as virtual audits.
WP6: The digital value chain
Large efficiency gains can be achieved by enabling the digital value chain. WP6 will enable a fully digital flow of information between the key private and public actors in the forest sector by development of a series of application and APIs that connect the different actors in the value-chain.