SmartForest will position the Norwegian forest sector at the forefront of digitalization resulting in large efficiency gains in the forest sector, increased production, reduced environmental impacts, and significant climate benefits.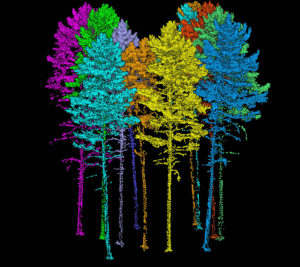 SmartForest will result in a series of innovations and be the catalyst for an internationally competitive forest-tech sector in Norway. The fundamental components for achieving this are in place; a unified and committed forest sector, a leading R&D environment, and a series of progressive data and technology companies.
However, without a large-scale long-term industry focused centre such as SmartForest, the sector will lack the momentum required for Norway to achieve the potential large-scale digitalization and business development potential inherent in the forest sector.
Project Leader for SmartForest is NIBIO, Norwegian Institute of Bioeconomy Research.
The primary objective of SmartForest is to improve the efficiency of the Norwegian forest sector by enabling a digital revolution transforming forest information, silviculture, forest operations, wood supply and the overall digital information flow in the sector.
The digital transformation will be enabled by a series of innovations that will form the foundation for the development for of a strong Forest-tech sector in Norway.
Secondary Objectives
In order to operationalize the SmartForest primary objective, 10 verifiable secondary objectives have been defined.
The secondary objectives are formulated with focus on innovation, value creation, recruitment improvements, and efficiency gains in the forest sector. Hence, the secondary quantifiable objectives become a direct operationalization of the primary objective's focus on efficiency and innovations in the forest sector. The secondary objectives are:
To create an internationally leading R&D environment that utilizes the emerging enabling technologies to increase forest sector efficiency through Precision Forestry.
To generate at minimum 30 innovations by applying enabling technologies to key processes in the forest sector and in this way form the foundation for an internationally leading Forest-tech sector in Norway.
To create at minimum 10 operational digital services that are commercialized by the SmartForest user-partners.
To develop improved cost-efficient operational systems for continuously updated forest information.
To develop cost-efficient precision silvicultural practices that can increase the growth rates of Norway's forest by 20%.
To develop digital approaches that reduce the cost of forest harvesting by 20% and reduce the environmental impacts by 50%.
To develop precision wood supply approaches that reduce costs of logistics by 5-10%, reduce seasonal fluctuations in wood supply by 20%, and increase the value creation of the harvested wood by 10%.
To enable full traceability of wood from the stump to the end product and enable digitally supported certification procedures.
To enable a fully digital flow of information between the key private and public actors in the forest sector by development and application of a minimum of 5 different systems with open APIs that connect at least 6 different actors in the value chain.
To increase the recruitment of technology minded students (master level) and young researchers (PhD and post docs) into the Norwegian forest sector by 50%.